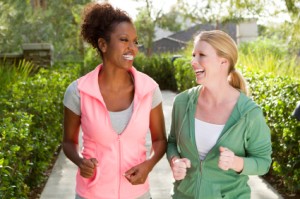 Getting active may help improve your mental health
We all know regular exercise has great physical benefits, but it can have tremendous positive effects on our mental well-being, too.
Many researchers have studied exercise's effect on the brain. Scientists hypothesize that it can increase levels of certain neurotransmitters in the brain, namely beta-endorphins and serotonin. Beta-endorphins are part of the mood regulating chemicals that reduce pain and can induce a state of euphoria known as "runner's high." Serotonin helps the brain maintain a stabilized mood and supports good sleep patterns.
Benefits of exercise
There are three basic theories as to other reasons why exercise may alleviate depression symptoms, said Ty Tims, CSCS, MES, medical exercise specialist, Baptist Memorial Health Care.
Self-efficacy: "Just motivating yourself to exercise improves your self-esteem," Tims said.
Mastery: If you can master a part of your life and make positive changes, that accomplishment gives you a sense of control. You can choose when, where, how and why you exercise.
Distraction: When you exercise, it distracts your body and mind from pain. You are doing something positive for your body. It can help you put problems in perspective.
Exercise also has other wonderful benefits. It:
Decreases your risk of heart disease, high blood pressure, osteoporosis, diabetes, and obesity.
Reduces the effects of aging.
Increases energy level.
Improves sleep.
Before beginning any exercise program you should get a checkup with your physician and talk to your doctor about your planned exercise program, Tims said. Your doctor will consider your physical condition, medications, and other issues that may affect your exercise routine.
Then you should talk to an exercise expert to help you create an exercise plan. Ask for references from friends. Check the credentials of professionals. The American College of Sports Medicine, National Strength and Conditioning Association and the National Academy of Sports Medicine all have certification programs for health and fitness professionals. You can locate certified exercise professionals in your area by visiting these sites. (Tims' certifications are from the NSCA and the American Academy of Health, Fitness, and Rehabilitation Professionals.)
How much do I need to exercise?
Guidelines from the American College of Sports Medicine:
Exercise 3-5 days a week.
Warm up 5-10 minutes before aerobic activity.
Maintain your exercise intensity for 30-45 minutes.
Gradually decrease the intensity of your workout, then stretch to cool down during the last 5-10 minutes.
If you suffer from depression, exercise may alleviate some symptoms. However, it will not cure your condition particularly if you have more serious form of depression. Depression is an illness that requires treatment. Please seek medical help from your physician or a licensed counselor.
Published: Feb. 11, 2005
Source: Ty Tims, medical exercise specialist, Baptist Memorial Health Care; American Academy of Sports Medicine; Vanderbilt University
Writer: Beth Bartholomew, MA, APR